Twimoby is ready for closed-beta test
Twimoby (follow us on Twitter) is a web service mainly focus on mobile twitter experience. At present it is only tested on Nokia S60/Symbian platform.
Features:
No client needed. Just use the built-in Email client in your phone to access most of the twitter services. (need IMAP support in the Email client, S60 confirmed)
Public timeline / Friends timeline subscription.
Keyword watch (Twitter search) subscription. (under implementation)
Automatic update, without user activities. (need phone support, S60 confirmed)
Notification for new message. (need phone support, S60 confirmed)
Show recent messages on idle screen. (need phone support, Nokia E-series confirmed)
Send your twitter message just like regular SMS or Email. (under implementation)
Reply on message directly to act as @someone. (under implementation)
In Plan: (only for some operators)
TRULY message push support. Only connect and fetch when new messages shown up, without persistent or periodic connection. Greatly save your network cost and extend the battery life.
---
Tweets shown on idle screen: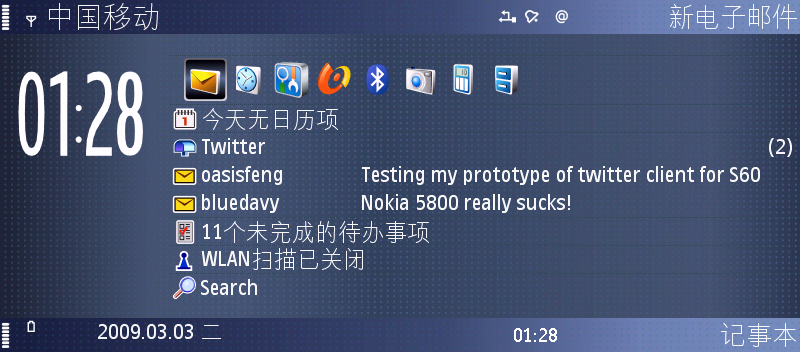 Write new tweet: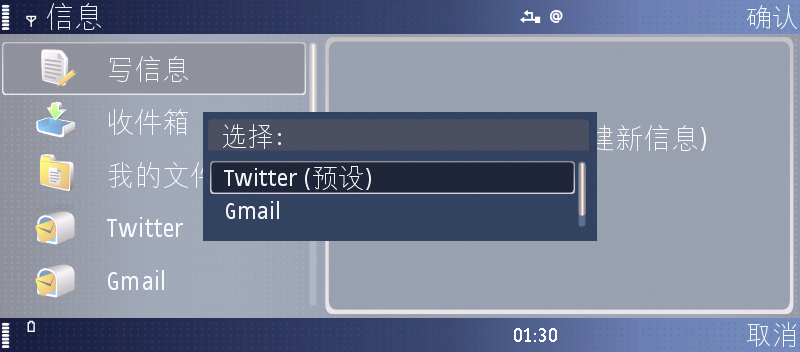 ---
We are currently looking for testers for our first closed-beta test. If you have a smart-phone of Nokia S60 3rd, have some twitter basis, and want to participate, please reply on this post. We are expecting your participation!</p>
Written on April 3, 2009